From solicitations

This six-issue collection includes the fan-favorite "Trial of James T. Kirk." As the Klingons and Nasguls pursue their vendetta against the captain, a deadly bounty hunter is eyeing the price they've placed on his head. But if the Kirk is fortunate enough to survive the encounter, will he survive the attentions of his own Federation, eagerly looking for a scapegoat to preserve universal peace?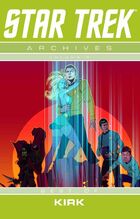 The solicitation for this book used a stand in cover with Kelsey Shannon's cover art for Focus on... Star Trek. The final cover by the The Sharp Brothers revised the title from Best of Kirk to Best of Captain Kirk.
Community content is available under
CC-BY-SA
unless otherwise noted.