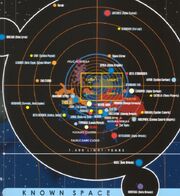 Beta Renner is a star system located at the edge of the space of the Federation, in the galaxy's Alpha Quadrant, in sector 500. Beta Renner was the location of a planetary system, of which Antica was the sixth planet and Selay was the fourth planet. (TNG episode: "Lonely Among Us")
The stellar notation using the Greek language letter "beta" indicates that there might be a star group or constellation of some sort named "Renner", of which Beta Renner would logically be indicated to be the second most prominent star or system. Startrek.com spells the system as "Beta Renna". In TNG video game: Birth of the Federation, the orbital configuration of the game map star systems was randomly generated each time a new game started. In particular, Beta Renner can exist twice on the same map, once as "Antica system" and again as the "Selay system".
Community content is available under
CC-BY-SA
unless otherwise noted.