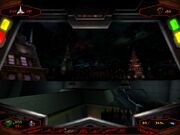 Beta Thoridor (or Beta Thoridar) is a star with an associated star system. Beta Thoridor is a class M red star located in the Beta Quadrant of the galaxy, around 80 to 100 light-years from Earth. (ST reference: Star Charts)
The stellar notation using the Greek language letter "beta" indicates that there might be a star group or constellation of some sort named "Thoridor" or "Thoridar", of which Beta Thoridor would logically be indicated to be the second most prominent star or system.
History
The Klingon Empire conquered Beta Thoridor in 2226. (Last Unicorn RPG module: All Our Yesterdays: The Time Travel Sourcebook) The system was then used as a dilithium mine, one of the most important in Klingon space. In 2269, the mine at Beta Thoridor became a flashpoint for tension between QuchHa' and hemQuch Klingons. (ST - Seven Deadly Sins novella: The Unhappy Ones)
Mapmaker K'tark included this system on his official 2266 star chart of the Imperial Klingon Empire. (ST reference: Stellar Cartography: The Starfleet Reference Library)
In 2367, according to Chancellor Gowron, the Duras family had gathered a fleet near Beta Thoridor, prompting the Klingon leader to ask Starfleet Captain Jean-Luc Picard for assistance. (TNG episode: "Redemption")
During the Borg Invasion of 2381, over seven thousand Borg cubes launched a simultaneous attack on the Alpha and Beta Quadrants from the Azure Nebula; Beta Thoridor was one of the systems attacked and its population wiped out. (ST - Destiny novel: Mere Mortals)
In 2409, a Romulan Republican Force warbird defended miners on the Beta Thoridor planet against Nausicaan pirates. (STO - From the Ashes mission: "Neutral No More")
Later the same year, an Allied starship defended a squadron of Romulan Republic T'varo-class warbirds against the survivors of the rogue House of Torg. (STO - Tau Dewa Sector Patrol (Daily) mission: "Beta Thoridor System Patrol")
Appendices
Connections
Background
Star Charts places Beta Thoridor in the Pi Canis sector block, while Star Trek Online places it in Tau Dewa.
External link