172 billion years ago 
13.7 billion years ago

12 billion years ago 

Tlaoli IV is formed in Sector Alpha 19.[6]
9 billion years ago 

Hundreds of protostars collapsed in close proximity to one another forming the astronomical phenomenon later known as a black cluster.[8]
8 billion years ago
7.2 billion years ago
5 billion years ago
A young Q is disciplined by the Q Continuum for tampering with the properties of antimatter, and possibly creating antimatter universes. He is put in isolation detention for ten million years. During the Q crisis of 2374, Q takes Jean-Luc Picard back in time to witness this event. Picard also witnesses the mischievous younger Q idly creating, and flinging into space, an energy ribbon which he believes resembles the Nexus.[12]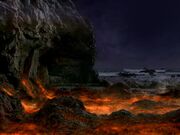 4 billion years ago
3.5 billion years ago
2 billion years ago
1 billion years ago
Over one billion years before 2269, the Slaver Empire, serve as the masters of all intelligent beings in most of the Milky Way galaxy until one species revolts.[15]
Title
Series
Date
Media
Notes
Image
Time. And Time. And Time Again.

(Past)
The Original Series
172,000,000,000 BC
comic
While preparing to beam down to planet Turages, a transporter malfunction sends Uhura back 172,000,000,000 years in time to a prior universe, where she encounters a gigantic beast.
Death Wish

(Past)
Voyager
13,700,000,000 BC
episode
The Big Bang; Quinn transports USS Voyager to this time period.
Crucible

The Star to Every Wandering

Chapter 10, Epilogue
The Original Series
5,000,000,000 BC
novel
James T. Kirk visits the Guardian of Forever billions of years prior to the formation of Earth's sun.
The Q Continuum

Q-Space

Chapter 11
The Next Generation
5,000,000,000 BC
novel
Spock's World

Vulcan: One
(Flashback)
The Original Series
5,000,000,000 BC
novel
Strange New Worlds II

Reciprocity

(Flashback)
The Next Generation
4,000,000,000 BC
short story
All Good Things...

Chapter 20, section 5
The Next Generation
3,500,000,000 BC
episode
novelization
The formation of the first proteins on Earth.
The Q Continuum

Q-Space

Chapter 13
The Next Generation
2,500,000,000 BC
novel
The Q Continuum

Q-Zone

Chapter 2
The Next Generation
1,000,000,000 BC
novel
Community content is available under
CC-BY-SA
unless otherwise noted.