For other uses, see Blaze of Glory.
"Blaze of Glory" was the 121st episode of Star Trek: Deep Space Nine, the 23rd episode of the show's fifth season, first aired during the week of 12 May 1997. The episode was written by Ira Steven Behr & Robert Hewitt Wolfe and directed by Kim Friedman.
Benjamin Sisko learns the Maquis may have launched missiles against Cardassia, forcing him to ally with Michael Eddington to take him to their launch site and stop them.
Referenced only 
USS Defiant (Defiant-class escort) • Excelsior-class • Janitza-class (in opening credits) • Jem'Hadar fighter • USS Leeds (Nebula-class explorer, in opening credits) • USS Rio Grande (Danube-class runabout) • USS Yeager (Federation Intrepid-variant light cruiser)
Referenced only 
Referenced only 
Science and classification
[
edit
|
edit source
]
astronomical unit • decibel • kilometer • meter •
adrenaline • boron • carbohydrate • deuridium • protein • tricobalt
carrot • corn • curry chicken • entree 103 • raktajino • rice • squid • tube grub
Ligorian mastodon • sabre bear • squid • stuffing • tarragon • tomato • tube grub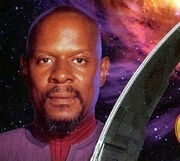 Community content is available under
CC-BY-SA
unless otherwise noted.