For other uses, see Bonaventure.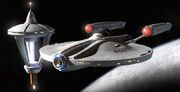 The Bonaventure-class was a class of Starfleet starship that was brought into service after the NX and related designs. It marked a radical change in starship design, described as being the equivalent leap as the original Phoenix to the NX-class.
The USS Bonaventure was a Bonaventure-class vessel. (ST reference: Ships of the Line)
These ships were on the drawing boards as of the year 2163. (ENT - Rise of the Federation novel: A Choice of Futures)
Appendices
Connections
Background
The class first appeared in the 2006 Ships of the Line calendar, in an image titled "Starfleet Proving Grounds", by the artist Meni. The image was later reprinting in the Ships of the Line book, with accompanying text identifying the class name.