For other uses, see Boston.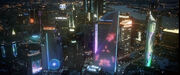 Boston was a large Human city on the planet Earth, located on the North American continent. Nearby cities and towns are called the Greater Boston area. (PIC episode: "Remembrance")
History and specifics
The city was founded in 1630 in what became the state of Massachusetts. Boston played a major role in the American Revolution and, following the war, became one of the most populous cities of the New England region of the United States.
While visiting Earth in the late 19th century, Guinan claimed that she was a member of a prominent Boston family. (TNG episode: "Time's Arrow")
The Boston Red Sox were a professional baseball team based in Boston. Jake Sisko and Kasidy Yates once attended a holoprogram of a game between the 1978 Red Sox and 1961 New York Yankees. Benjamin Sisko was unable to attend, but correctly predicted a Yankees victory. (DS9 episode: "For the Cause")
Mestral of the planet Vulcan was in Boston during the outbreak of World War III, narrowly escaping the city (alongside scientist Zefram Cochrane) prior to its destruction by nuclear weapons in the year 2053. (ENT short story: "Mestral")
Amanda Grayson's great-great-great-grandfather, Jeremy Grayson, lived in Boston toward the end of his life in the mid 21st century. Spock's aunt Kathleen Fitzhugh and cousin Elizabeth Fitzhugh resided there in the 23rd century. (TOS novel: Strangers from the Sky TOS short story: "Family Matters")
Since Spock's aunt and cousin lived in Boston in the 23rd century, the city must have been rebuilt after the third world war.
Points of interest
This article or section is incomplete
This article is marked as lacking essential detail, and needs attention. Information regarding expansion requirements may be found on the article's

talk page

. Feel free to edit this page to assist with this expansion.
Appendices
Connections
References
External links