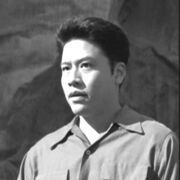 Ace Reporter Buster Kincaid was a fictional character from The Adventures of Captain Proton. He served as Captain Proton's sidekick.
Eternal speaker of the obvious, he would appear to have nothing better to do in life than follow Captain Proton around. (Captain Proton: Defender of the Earth short story: "Children of the Glass")
In the 1938 radio adaptation, Buster Kincaid was played by Raymond Hayashi. (DS9 short story: "Captain Proton and the Orb of Bajor")
In the Captain Proton holonovels created by Lieutenant Tom Paris aboard the USS Voyager in 2375, the role of Buster Kincaid was played by Ensign Harry Kim. (VOY episode: "Night", et. al)
Community content is available under
CC-BY-SA
unless otherwise noted.