The CDS Danasket was a Cardassian Union starship, a Keldon-class (advanced variant) battleship in the 24th century, in service of the Obsidian Order in the 2370s decade. Allo Glessin served aboard Danasket as a medic.
History and specifications
[
]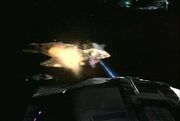 In the year 2371, the Danasket was part of the combined Order/Tal Shiar fleet that launched an attack on the Founders' homeworld in the Gamma Quadrant. The ship was severely damaged in the Dominion attack that followed, with its crew sustaining heavy casualties. The only known survivor was Glessin, who was ordered into an escape pod by a young soldier. The young man died soon after, and Glessin's escape pod escaped detection by the Jem'Hadar. (DS9 novel: Rising Son)
Personnel
[
]
Appendices
[
]
Connections
[
]
Background
[
]
It is possible Danasket was among the unnamed Keldon-class starships seen in DS9 episode: "Defiant".