For the mirror universe counterpart, see CDS Koranak (mirror).
The CDS Koranak was a Cardassian Union starship, a Keldon-class (advanced variant) battleship in the 24th century, in service of the Obsidian Order in the 2370s decade.
History and specifications
[
edit
|
edit source
]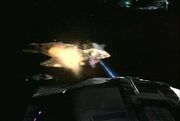 In the year 2371, the Koranak was among the Keldon-class battleships secretly built by the Obsidian Order in the Orias system, with the help of the Romulan intelligence agency Tal Shiar and without supervision from the Cardassian Central Command. The Koranak was upgraded with an increased top speed and a Romulan cloaking device, and became part of the fleet defending the Orias system. (DS9 episode: "Defiant", (WizKids module: Attack Wing: "Koranak Expansion Pack")
Later that year, the Koranak was part of the combined Order/Tal Shiar fleet that launched an attack on the Founders' homeworld in the Gamma Quadrant. The ship was severely damaged in the Dominion attack that followed, destroyed at the Battle of the Omarion Nebula. (DS9 episode: "The Die is Cast")
Community content is available under
CC-BY-SA
unless otherwise noted.