The CDS Okara (CUW-80004) was a Cardassian Union starship, a Keldon-class (advanced variant) battleship in the 24th century, in service of the Obsidian Order in the 2370s decade.
History and specifications
[
edit
|
edit source
]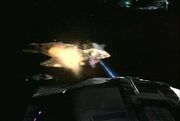 In the year 2371, the Okara was part of the combined Order/Tal Shiar fleet that launched an attack on the Founders' homeworld in the Gamma Quadrant, destroyed in the Dominion attack that followed. (Decipher RPG module: Starships)
It is possible Okara was among the unnamed Keldon-class starships seen in DS9 episode: "Defiant".
Community content is available under
CC-BY-SA
unless otherwise noted.