---
Spoiler warning:
Plot and/or ending details follow: The following content contains spoilers!
---
For other uses, see Quinn.
In an alternate timeline created by Q by changing Earth history in 2024,[3] the CSS Quinn (NCC-74536) was a 25th century Confederation of Earth starship, a Nova-class science vessel[1] in Confederation Corps service in the 2400s decade. (PIC episode: "Assimilation")
Service history and disposition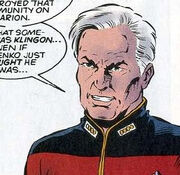 In the primary universe, Admiral Gregory Quinn was a Starfleet flag officer who was temporarily taken over by a Bluegill parasite in 2364. (TNG episode: "Conspiracy")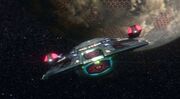 In the Confederation timeline, the Quinn was a military vessel named for his Confederation counterpart. The ship's NCC registry number indicated it was launched around the 2370s. At one point, the Quinn patrolled deep space. (ST video game: Star Trek Online)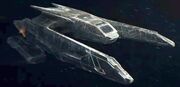 The ship was near Earth in the year 2401. During the Eradication Day ceremony, it appeared that Confederation President Annika Hansen and General Jean-Luc Picard absconded with the last surviving Borg. In fact, the minds of Seven of Nine, Picard and the Borg Queen from the primary universe occupied their counterparts and they fled aboard the Kaplan F17 patrol frigate CSS La Sirena. (PIC episode: "Penance")

As La Sirena attempted to escape Earth's orbit, the Confederation Corps launched the Quinn, Dougherty and Leyton to intercept the rogue La Sirena. Seven of Nine fired a photon torpedo at the Dougherty. The torpedo broke through the ship's deflector shields and detonated the Dougherty.
The remaining Leyton and Quinn pressed their attack but were destroyed soon after when the Borg Queen fired enhanced torpedoes at them. La Sirena escaped and performed a slingshot maneuver at Sol, travelling back in time to 2024 to undo this timeline. (PIC episode: "Assimilation")
Appendices
Connections
Nova-class science vessel starships
Federation Starfleet
(primary universe)
standard configuration
Anticipation • Asimov • Aurora • Binary • Charribey • Equinox • Everett • Forrest-B • Foundation • Freeman Dyson • Huxley • Lionheart • McCoy • Morgan • Norfolk • Nova • Nova-B • Pulsar • Quasar • Solstice • unnamed
variant configurations
Aurora-subclass: Aurora • McCoy • Equinox-subclass: Equinox • Galen-subclass: Galen • Quasar-subclass: Forrest • Quasar • Rhode Island-subclass: Jhamel • Rhode Island
Confederation of Earth,

Corps


(alternate timeline)
standard configuration
Dougherty • Quinn
Terran Imperial Starfleet
(mirror universe)
standard configuration
Nova-B • Nova-C • Nova-F • unnamed
variant configurations
Equinox-subclass: Equinox • Rhode Island-subclass: Rhode Island
Appearances and references
Appearances
References
External link