The California class a 24th century Federation starship class, a workhorse-type vessel[3] specialised in different mission profiles[4], including second contact, in Starfleet service in the 2380s decade. (LD episode: "Second Contact")
History and specifications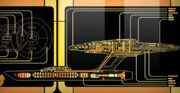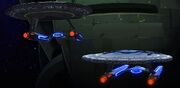 Ships of this class were typically named for locations and other namesakes associated with the Human state of California on the planet Earth. (StarTrek.com website: Below Deck With Lower Decks: California Class Ships)
The hull of this class consisted of a round saucer section, with a pair of nacelle pylons suspended below. The warp nacelles were attached to the nacelle pylons but also held a compact engineering section with the forward-facing navigational deflector between them. The bridge was located on Deck 1 atop the vessel. The shuttlebay typically held Type-6A shuttlecraft. They were also equipped with Argo-type buggies for groundcar-based surface operations. (LD episode: "Second Contact")
In total, a California-class ship was 794 meters long. (Shipyards reference: Starfleet Ships 2294 - The Future)
Personnel aboard these ships were dressed in the colorful Starfleet uniform of the early 2380s.
The USS Cerritos was specialised in second contact missions. Its livery included operations-department yellow piping. (LD episode: "Second Contact")
The USS Merced, which cooperated with the Cerritos on recovering an ancient generation ship, featured science-blue stripe on its hull. (LD episode: "Moist Vessel")
The USS Rubidoux and its replacement, the USS Solvang, were painted in command red. (LD episodes: "Much Ado About Boimler", "No Small Parts")
In 2380, three California-class starships were destroyed on individual missions, the Merced, Rubidoux and Solvang. The Cerritos suffered extreme structural damage and underwent a refit and repairs at Douglas Station. (LD episodes: "Moist Vessel", "Much Ado About Boimler", "No Small Parts")
Lieutenant Tom Paris visited the Cerritos in 2381 and affectionately referred to its type as the Cali-class. (LD episode: "We'll Always Have Tom Paris")
Known vessels
Appendices
Connections
Appearances and references
Appearances
References
Background
Lower Decks co-producer

Brad Winters

gave the California-class ship length as 535.2 meters, and height at 121.3 meters, in a Tweet. Producer

Mike McMahan

confirmed these figures in a reply tweet.
External links