For other uses, see Cam.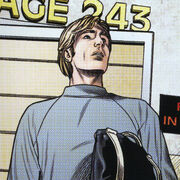 Cam was a character on a popular Viden television show, Welcome to the Family in the 23rd century.
Cam and Liza were fictional children to two parents in the situation comedy series. Liza called him "dumb-head".
The actor who played Cam was cast for the show ahead of 2,000 applicants. The role entitled him to vote and feed his family.
In the 2260s, the actor who played Cam was eighteen and tried to quit showbiz, but as he tried to make his escape a studio security guard shot and killed him. His death was witnessed by Captain James T. Kirk, studio President Ted Tinker and the host of The Dr. Marv Show. Kirk's reaction was featured on the evening news show i-News and dropped public approval toward's the TV series' owner Trilateral Broadcasting Company. (TOS - Year Four comic: "Issue 4")
Appendices
Edit
Appearances and references
Edit
Appearances
Edit
Community content is available under
CC-BY-SA
unless otherwise noted.