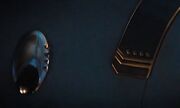 Captain is a rank of officer in many naval services and space forces, most notably Earth Starfleet and its Federation counterpart. The title of captain is also used in a more general sense to refer to any individual, civilian or otherwise, who is the commanding officer of a ship. However, there are times when a captain may not be the commanding officer of a ship, serving as a department head, first officer or adjutant to an admiral or a more senior captain. 3 cases include Spock, who served as first officer under James T. Kirk onboard the USS Enterprise and USS Enterprise-A in spite of holding the rank of captain; Montgomery Scott, who served as captain of engineering on board several ships; and Geordi La Forge, who briefly served as captain of engineering onboard the USS Enterprise-E before returning to his previous rank.
Starfleet captains are sometimes referred to as "Skippers". (DS9 episode: "In the Pale Moonlight", DS9 - Mission Gamma novel: Lesser Evil)
Captain is the most senior officer rank, a grade higher than a commander and a grade below either commodore or rear admiral in most rank structures, although some organizations will refer to a captain as a commodore in title only, to show the said captain's seniority over other captains. The Federation also once had a rank of vice commodore, falling below commodore but above captain, and a title of fleet captain that is considered to outrank a captain. The captain rank is roughly equivalent with the authority of a colonel of military forces, although some militaries have an unrelated rank of captain that is equivalent to a naval lieutenant.
Equivalent ranks
The Blood Many has a strict rank code which places an

avedon

at the head of their ships, the so-called

Blood savages

. When Shucorion joined the crew of UFPF Challenger, he took somewhat of a demotion to first officer status, as he had previously been a captain-equivalent avedon. (TOS - New Earth novels: Wagon Train to the Stars, Challenger; CHA - Gateways novel: Chainmail)
In the Cardassian language, gul is a Cardassian officer rank title which, in translation to Federation Standard, is approximately equivalent to a captain. (Star Trek: Deep Space Nine, et al.)
The Ferengi rank/title most similar to captain is DaiMon, although like much of Ferengi culture the title is distinct and different in that it carries a mercenary ethic and prices to match. (Star Trek: The Next Generation, et al.)
In Klingonese, a ship's captain is referred to as HoD. (ST reference: Klingon for the Galactic Traveler)
The Romulan Star Empire has two ranks, commander (rh'iov in the Romulan language) and legate, that are analogous to a captain's standing. (TOS - TLE novel: The Lost Years; NF novels: After the Fall, Missing in Action)
Rigger is the Skeen's designation of a ship's captain. (VOY novel: Acts of Contrition)
Vulcan ships refer to their commanding officer as captain as well, although they sometimes use the terminology "commander", a type of reference shared with their offshoot cousins, the Romulans. (Star Trek: Enterprise, et al.)
Insignia
22nd century

In the Earth Starfleet uniforms of the 22nd century, captains wore pin insignia of four rectangular pips. Their service uniforms also had sleeve insignia of a two white bands with a division color-coded stripe between. (ENT episode: "These Are the Voyages...")
23rd century


By the era of the 23rd century, Federation Starfleet, captains' uniforms had a sleeve insignia of a two gold braids with a broken braid in between. A captain's dress uniform was similar to a commander's, with thick gold braid at the neck and closure, with added thin gold piping along the shoulder seam. (TOS episode: "Court Martial")
In the early 2270s, captain's uniforms had the same sleeve insignia, and an epaulet that also bore two solid stripes and a broken stripe. (TOS comic: "Domain of the Dragon God!")

In the uniforms of the 2280s, captains wore pin insignia with a three central bars attached to two command officer flag devices, above and below. (ST reference: The Star Trek Encyclopedia)
24th century


In the uniform insignia introduced in the mid-24th century, a captain wears four circular pips as their rank insignia. (FASA RPG module: Star Trek: The Next Generation Officer's Manual)
Captain insignia
Starfleet captain insignia
era
general wear
command division
operations division
sciences division
command
tactical/military
flight-engineering
(admin, pilot, engineer)
security
special services
sci-ops
(ops, sci & tac ops)
medical
Earth Starfleet ranks
Federation Starfleet ranks (2160s)
Federation Starfleet ranks (2230s)

Federation Starfleet ranks (2240s)

Federation Starfleet ranks (2260s)
Federation Starfleet ranks (2270s)
(Built to Lieutenant)
Federation Starfleet ranks (2270s-2350s)

Federation Starfleet ranks (2350s-2366)

Federation Starfleet ranks (2366-2373)
Federation Starfleet ranks (2373-2386)

Federation Starfleet ranks (2386-2410)

Federation Starfleet ranks (2800s)
Alternate captain insignia
Starfleet alternate captain insignia
era
command division
operations division
sciences division

Federation Starfleet ranks (2250s) alt

Federation Starfleet ranks (2386-2410) alt
Positions and lists
Earth & Federation Starfleet
See: Starfleet captains
Klingon Defense Force
Romulan Mining Guild
Appendices
Connections
External links