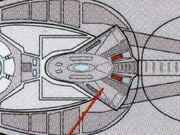 A captain's skiff was a type of small craft, about the size of a runabout, attached to Starfleet Luna-class starships in the late-24th century. Similar to Galaxy-class and Sovereign-class captain's yachts the skiff was launched directly from the underside of the saucer section, from just behind the ventral sensor array. (TTN novels: The Red King, Synthesis, Sword of Damocles)
Captain's skiffs were warp capable, and designed for diplomatic functions and recreation; they were not typically suited for missions requiring a powerful ship. Captain's skiff systems included a transporter. (TTN novels: Over a Torrent Sea, The Red King)
The USS Titan's captain's skiff was the La Rocca. (TTN novel: The Red King)
The La Rocca and the concept of the captain's skiff first appear in The Red King. The ship does not appear in a story again until Over a Torrent Sea, but is marked on the Luna-class schematics included in Sword of Damocles.
Community content is available under
CC-BY-SA
unless otherwise noted.