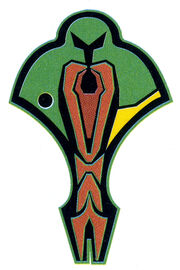 The Cardassian Liberation Front was the Cardassian resistance led by Corat Damar that formed towards the end of the Dominion War.
History and specifics
[
]
The group's aim was to combat the Dominion and drive their "oppressors" from Cardassian Union space. (DS9 episodes: "The Dogs of War", "What You Leave Behind")

This article is a stub relating to a group or organization. You can help our database by expanding on it.
Appendices
[
]
References
[
]
External link
[
]