The Castroi class was a Xindi-Insectoid shuttlecraft in service since at least the 22nd century. In the 2150s, ships of this class served as scoutships. By the early 25th century, Castroi-class fighters were auxiliary vessels of Olaen-class heavy escort carriers. (ENT episode: "Hatchery", STO video game: Delta Rising Xindi Terrestrial Lockbox)
A Castroi-class scoutship encountered the United Earth Starfleet starship Enterprise NX-01 over an uninhabited planet in the Delphic Expanse. When the scoutship tried to flee it was destroyed by Enterprise with photonic torpedoes. Its crew complement of three perished. (ENT episode: "Hatchery")
When remainder of the Xindi Council decided to end their isolationist stance within the Federation, Castroi-class fighters became available as combat fighters for all Xindi carriers. They were part of the standard hangar outfit of Olaen-class heavy escort carriers but could also be operated from Xindi-Primate Ateleth-class dreadnoughts and Xindi-Aquatic Narcine-class starships.
In the 2150s, the Castroi-class scoutships were warp-capable vessels with a crew of three. They were no match for a Human NX-class starship. (ENT episode: "Hatchery")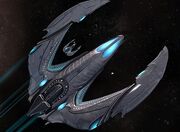 In June 2410, the entirety of the Xindi Council made their ships available to Starfleet, the Klingon Defense Force and the Romulan Republican Force. Castroi-class fighters were available in three visually indistinguishable varieties standard, advanced and elite. These fighters were armed with one plasmatic biomatter beam array and quantum torpedo launcher at the fore, although the advanced fighter fielded an additional plasmatic biomatter turret at the aft. A full single squadron contained four fighters. (STO video game: Delta Rising Xindi Terrestrial Lockbox)
Community content is available under
CC-BY-SA
unless otherwise noted.