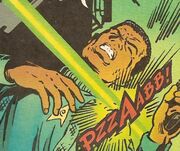 Cayman was a Human male who served in Starfleet in the mid-23rd century. In 2254, he was serving under Captain Christopher Pike on the USS Enterprise.
On stardate 2378.1, Cayman was part of a landing party to the Pharos siteworld in the Marrat Nebula, investigating the loss of contact with the engineers of Project Pharos. The Pharos site had been attacked by the Klingons and shortly after transporting down the landing party came under the attack. Pinned down, Cayman took a disruptor blast to the shoulder; fortunately Dr. Phillip Boyce was also in the landing party and was able to treat Cayman while the rest of the team made their way around the Klingons to ambush them from behind. (EV comic: "The Fires of Pharos")
Community content is available under
CC-BY-SA
unless otherwise noted.