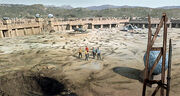 The Cestus III Outpost was a Federation facility, a Starfleet outpost located on the surface of planet Cestus III. Built in the 2260s decade, the Cestus III Outpost was destroyed by the Gorn in the year 2267.
The outpost, along with the Cestus III Colony, were situated on the class M planet Cestus III, located in a region bordering the territory of the United Federation of Planets and the Gorn Hegemony, in the Beta Quadrant.
In 2267, Gorn Captain S'slee led his starship, the GCS Gress'sril, and a number of ground troops in what the Gorn considered at the time to be a counter-invasion strike, destroying the colony along with the outpost and slaughtering most of the colonists in what his known has the Cestus III Massacre. (TOS episode & Star Trek 2 novelization: Arena)
Elizabeth Sherwood was a young child when her parents were killed by the Gorn attack on Cestus III, an event that motivated her to join Starfleet in an attempt to protect others from such tragedy. Enrolled in Starfleet Academy in the early 2280s, Sherwood was among a group of officer-cadets who were instructed by Captain Spock. (ST comic: "Who's Who in Star Trek, Issue 2")
Community content is available under
CC-BY-SA
unless otherwise noted.