For other uses, see Challenger.
The Challenger-class was a type of Federation starship in use by Starfleet in the 24th century. (ST reference: The Star Trek Encyclopedia; TTN novel: Taking Wing)
History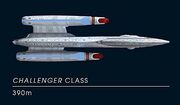 The Challenger-class was a 24th century design, consisting of a commonly-used type of saucer section, with a secondary hull attached directly to the aft saucer. Two warp nacelles were attached above and below the stardrive hull extension.
One of the famous members of this starship class was the USS Buran, lost at the Battle of Wolf 359. (TNG episode: "The Best of Both Worlds, Part II")
Known vessels
Appendices
Connections
Background
The Buran model was built for the battle sequence in "The Best of Both Worlds" and later described to Star Trek fans by Michael Okuda's appearances at conventions, where he showed slide with images of the behind-the-scenes models.
Apocrypha
The ebook The Dominion War Sourcebook: The Fires of Armageddon, published by Last Unicorn Games after they had lost their Star Trek license lists the USS Veliko (NCC-62503) as a Challenger-class vessel.
References and notes
External links