For the mirror universe, see Regent of the Klingon Empire.
The Chancellor of the High Council is the leader of the High Council of the Klingon Empire and is the head of government for the Klingon Empire. The Chancellor became the head of government for the Empire after the fall of the post of Emperor in the mid-21st Century. The Chancellor doubled as the head of state until the restoration of the imperial throne in 2369. In 2376, a line of Chancellor-class ships was produced by the Klingon Defense Force, each named in honor of previous chancellors.
The Chancellor is protected at all times by the Yan-Isleth, a dedicated security force. However, many chancellors have been known to take command of Klingon Defense Force vessels and lead attacks personally:
Mow'ga was the first chancellor to rule the High Council. (Star Trek Adventures module: The Klingon Empire Core Rulebook)
The office replaced the Emperor of the Klingon Empire as the definite ruler of the realm in the mid-21st century. (TNG episode: "Reunion")
When J'mpok lost popular support during the Klingon Civil War of 2411, he declared himself emperor. In his first act, Emperor J'mpok dissolved the High Council. At the time, the alliance between the Great Houses dissolved and the Klingon Empire shattered. (STO - Klingon Civil War mission: "Partisans")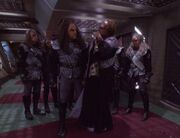 Community content is available under
CC-BY-SA
unless otherwise noted.