For other uses, see chariot.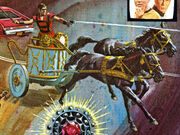 A
chariot
was a type of transportation consisting of a two-wheeled cart pulled at speed by an
animal
.
On the planet Earth, chariots pulled by horses were often used in warfare by ancient Egypt and the Roman Empire. They were very dangerous in a crash or accident, capable of dismembering a person.
Rory Williams could drive a chariot using his knowledge of being a Roman soldier. In ancient Egypt, he drove a chariot as he, Amy Pond and the Doctor were pursued by Egyptian soldiers. (TNG - Assimilation² comic: "Issue 1")
In 1944, a Roman chariot race was once glimpsed in a resetting time stream. (ENT episode: "Storm Front, Part II")
In 1955, James T. Kirk pursued Andres, both in chariots, along a California freeway. Andres had stolen an N-cycle bomb and fled into the past using the time travel cabinet. The chariot chase was inadvertently filmed by cameraman Zoltan and movie director Bovrille, who pursued them in a pickup truck. (TOS comic: "A Bomb in Time")
Appendices
Edit
Appearances
Edit
External link
Edit
Community content is available under
CC-BY-SA
unless otherwise noted.