For other uses, see Chimera.
The Chimer class[2] was a 24th century Federation spacecraft type, a starship class in Starfleet service from the 2370s[1] decade. (ST video game: Alien Domain, SOTL calendar: 2016)
Service history and specifications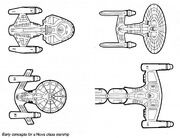 In the 2360s decade, a design with a modular saucer section was considered for the Nova-class successor to the Galaxy-class explorer. (TNG reference: Star Trek: The Next Generation Technical Manual)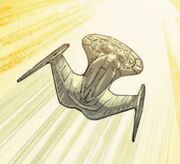 The Chimer-class vessel's hull consisted of a circular, segmented saucer section attached directly to a secondary hull. A blue deflector dish rested at the front of the engineering hull, while flat, wide nacelle pylons held the ship's pair of narrow, pointed warp nacelles.
By 2375,[1] the Chimer-class vessel Veracruz, registered NCC-75400, had entered service and participated in the Dominion War. (SOTL calendar: 2016)
In that year, this Veracruz delivered relief soldiers and engineers to AR-558 to replace those that had been fighting there for months. (DS9 episode: "The Siege of AR-558")
An earlier USS Veracruz, a Phalanx-class heavy cruiser, had been in service from 2371 and took part in the Dominion War as well. (SOTL calendar: 2018)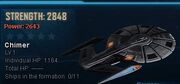 Years after USS Voyager's return from the Delta Quadrant in 2377[3], and its accord with Species 8472[4], the Starfleet forces under Admiral Elton Smith that were stranded in fluidic space fielded the USS Chimer and other ships of its class against native species and hostile Klingon elements. Ships of the class were armed with phaser banks and photon torpedo launchers. (ST video game: Alien Domain)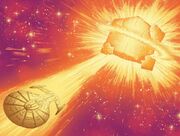 While the Sovereign-class USS Enterprise-E was still in service,[5][6] Geordi La Forge captained another starship named Enterprise. A version of Data began serving as La Forge's first officer and the Chimer-class USS Enterprise computer mainframe - effectively replacing a standard crew. The ship rescued 200 officers of the time displaced Sakurazaka, stranded from a distant future. (TNG - Waypoint comic: "Puzzles")
Known vessels
Appendices
Connections
References