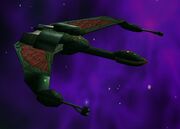 The Chuq'Beh class vessels was a large version of the B'rel class Bird of prey ships of the Klingon Empire, similar to the K'vort class. However, unlike both the B'rel and K'vort, the Chuq'Beh is actually a new addition within the Klingon fleet and was designed as an artillery platform. They were equipped with a Disruptor cannon that was capable of hurling bolts at distant targets that exceeded the weapon ranges of other weapons within the fleet. Standard short range disruptor weapons were employed on the wings to protect it from harm. This provided an essential element within the Klingon fleet when used in operations against enemy fleets and fixed based defences.
Community content is available under
CC-BY-SA
unless otherwise noted.