For other uses, see

Class 11

.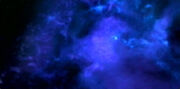 In Federation Starfleet's numeric nebula classification[1], a class 11 nebula was a type of blue gas cloud in interstellar space. (VOY episode & novelization: Flashback)
History and specifics
[
]
The gasses of a class-11 nebula were primarily comprised of oxygen and argon, with trace amounts of theta-xenon, fluorine and sirillium.
The Azure Nebula was a class-9 nebula. In 2293, it was the site of an encounter between the Federation's USS Excelsior and a Klingon K't'inga-class battlecruiser. Ensign Tuvok served as a science officer aboard the Excelsior-class starship at the time. Captain Hikaru Sulu ignited the sirillium within the nebula to cripple the Klingon ship.
In the 2370s decade, Lieutenant Tuvok served as security chief aboard USS Voyager. On stardate 50126.4 in 2373, Voyager encountered a class 17 nebula in the Delta Quadrant. While their composition was different, Tuvok found that nebula superficially to the class-11 Azure Nebula due to the blue coloration. (VOY episode & novelization: Flashback)
In the same year, on stardate 50716.5, Ensign Harry Kim aboard Voyager discovered a class 12 nebula. The class 12 was the first new type of nebula to be classified by Federation science since the 22nd century. (VOY - Strange New Worlds I short story: "Monthuglu")
In February 2381, the USS Enterprise-E and USS Aventine subspace tunnels within the Azure Nebula to visit areas in the Delta Quadrant]]. The tunnels were destroyed soon after. (ST - Destiny novel: Lost Souls)
In 2409, the Tholian Assembly used the Azure Nebula's properties to capture alien vessels and access alternate timelines. (STO - New Romulus missions: "Azure Nebula Rescue", "Temporal Ambassador")
Known class-11 nebulae
[
]
unnamed Delta Quadrant nebulae
Appendices
[
]
Connections
[
]
Appearances and references
[
]
Appearances
[
]
References
[
]
External link
[
]