The Courage class[5] was a 31st century Federation starship type, a command science destroyer in Starfleet service since before the Burn in the 3060s decade. It was unusually tall and lacked visible warp nacelles. (DSC episodes: "People of Earth", "Die Trying")
Technical specifications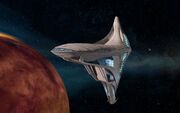 The Courage class was essentially T-shaped, with a horizontal platform forming the central layer between two conical sections pointing away from the center of mass. Overall, the vessel appeared large and bulbous. It was one of at least 10 Federation classes active in the 3060s decade. (DSC episode: "People of Earth")
The design incorporated features from races and cultures from across the Milky Way Galaxy.
At some point in the 32nd century, ships of this class were time-displaced to the 2410s decade and re-entered service as tier 6 command science destroyers in the Khitomer Alliance. They therefore operated as science vessels with command ship and destroyer capabilities. As a science destroyer, the Courage class could switch between a science and tactical mode. Unlike ships contemporary to the year 2411, ships of this class changed orientation, i.e. the bow became the stern and vice versa. (STO website: Command the Courage of the Future!)
Like all 32nd century Federation Starfleet starships, vessels of this class were equipped with a cloaking device. The Courage-class destroyer was fitted with phaser beam bank/arrays, photon torpedo launchers, and the coherent integrity projector experimental weapon. An additional force translator system allowed the Courage class to fire red bolts. (STO - House United mission: "Welcome to Earth Spacedock")
Livery
In the 25th century, the design of the Courage-class command science destroyer allowed its commanding officer to choose from different designs of hull materials, which could be modified further at shipyards.
The ship's name and NCC or alternative registry number were emblazoned on the hull. (STO - Klingon War mission: "Welcome to Earth Spacedock")
Furthermore, the installation of deflector shields from specific factions modified the hull appearance, including shields from the Reman Resistance, the Breen Confederacy and the Dominion. (STO missions: "Coliseum", "Cold Storage", "Boldly They Rode")
Service history
In 3069[3] at least four ships of this class operated in the sensor range of the unnamed Federation relay station when the Burn occurred and destroyed all starships with an active warp core across the galaxy by destabilizing their dilithium. When the ships' dilithium crystals went inert, matter/antimatter containment failed, and the vessels detonated instantaneously.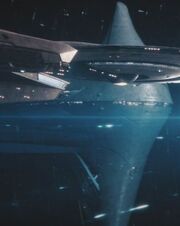 In the year 3188, acting communications chief Aditya Sahil shared his station's sensor logs with Commander Michael Burnham. These included graphics of the Starfleet ship locations and a visualization of their destruction when the Burn was triggered. Burnham reported these findings in a transmission to her ship, the time-displaced USS Discovery on stardate 865211.3. (DSC episode: "People of Earth")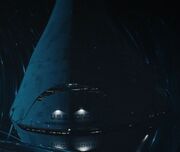 Four ships of this type was still in service in the 32nd century. In the 3180s decade, and operated inside the distortion field surrounding the Federation Headquarters space station.
In 3189, these four, including the USS Song, were present as the time-displaced USS Discovery made its way through the distortion field towards Federation HQ. (DSC episode: "Die Trying")
The Song moved into attack position after the Discovery-A returned from the Verubin Nebula and was found to be under Emerald Chain control. (DSC episode: "There Is A Tide")
When a battle erupted between the Chain forces and Starfleet, the Song and its sister ships fired on Discovery. The ship escaped, and the Courage-class ships joined the fleet led by USS Voyager-J in pursuing the spore drive ship. After Discovery was recovered and the Chain forces defeated, ships of this class were part of the honor guard welcoming Discovery-A back to Federation HQ. (DSC episode: "That Hope Is You, Part 2")
Known vessels
RRW Egaruoc (NCC-92982)[1]
Appendices
Connections
Appearances and references
Appearances
References
External links