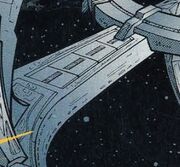 Crossover bridges are a large three-part section of Cardassian Nor-class space stations such as Deep Space 9 that connect the Habitat ring to the docking ring.
Crossover bridges are composed of seventy percent rodinium, twenty-six percent kelindide and four percent toranium. (DS9 reference: Star Trek: Deep Space Nine Technical Manual)
Following the assassination of Shakaar Edon in 2376, Ro Laren ordered constant security patrols of the crossover bridges. (DS9 - Mission Gamma novel: Lesser Evil)
The Frontier-class Deep Space 9 had six crossover bridges that connected the docking ring to the central sphere of the station. (ST - Typhon Pact novel: Raise the Dawn, ST - The Fall novel: Revelation and Dust)
Community content is available under
CC-BY-SA
unless otherwise noted.