A cutter is a small patrol craft for in-system use. In Starfleet, cutters are used by both the Merchant Marine and Military Operations Commands. These vessels are lightly armed and shielded. Cutters are warp-capable, and their in-system maneuverability is very good. (FASA RPG module: Ship Construction Manual)
In emergencies or war times, cutters may be pressed into service as light attack fighters.
Appendices
Edit
Cutter classes
Edit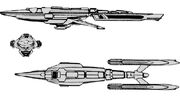 Cutters of unknown class
Edit
Community content is available under
CC-BY-SA
unless otherwise noted.