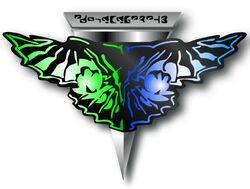 D'Vorix class starships were a design manufactured by the Romulan Star Empire through the 2290s.
D'Vorix class ships consisted of a bulbous command module at the end of a long narrow neck with wide warp nacelle mounts, and were powered by a artificial quantum singularity drive.
The class proved an effective warship and was used in the conquering and occupation of many planets, including Cort.
D'Vorix-class starships stopped being manufactured in the late 2290s, but existing ships stayed in commission as late as 2311, when three escorted the flagship Tomed to an invasion of Koltaari. (TLE novel: Serpents Among the Ruins)
Community content is available under
CC-BY-SA
unless otherwise noted.