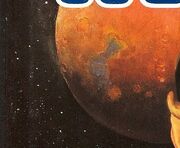 Da'kum'Ulcha was a location on Vulcan and was situated in the Shi'al province.
History and specifics
Originally called Devlarm, it was a city that had a population of just over one million in the time before the Awakening. The story of the city was known only to legend by later era Vulcans which claimed that it was the site where the first space capable ship was built which was the reason the city was destroyed. This was because many of the warlords believed that the faction that first reached space would have the ultimate way to gain status and an advantage over their competitors. Thus, when news spread that the warlord Dvir technicians were close to completing a ship, all the neighbouring lords from Xial attempted to gain such a power through either sabotage or negotiation.
However, some of the Houses attempetd to negotiate with Dvir, the warlord Nu'val decided to stop the project at all costs. This was when the city if Devlarm was struck without warning by Nu'val's sky force which leveled it. Archaeoligists later theorized that Nu'val struck the city with an overwhelming barrage of neutron warheads. This meant that in a matter of seconds, roughly ninety percent of the inhabitants of Devlarm were vaporized along with the launch site and left the city remained mostly intact. That was where the historical records end abruptly leaving little else known of the ruined settlement. Amongst those that visited the ruins, some stated that they swore they could hear the sounds of the dying in the howling winds.
By the modern age, it became known by its current name which when translated to Federation Standard meant "City of Shadows". Individuals were capable of visiting the ruins though it was not a subject that Vulcans liked to stalk about as it was a reminder of what happens when life came to mean nothing and the horrible consequences of such actions. (Last Unicorn RPG module: The Way of Kolinahr: The Vulcans)
Appendices
Connections
References