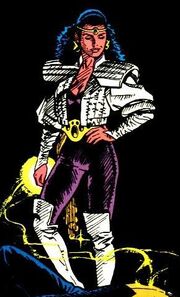 Dahlia Santorini was a female Human in the 24th century. Santorini suffered from a debilitating genetic disease which, among other things, negatively affected her physical appearance.
As a young adult, she was friends with Geordi La Forge, who considered her beautiful and full of life. Santorini in turn considered La Forge to be her best friend, and told him so just before she left for Serafin's Planet, a colony for others suffering from the same disease.
Santorini and La Forge were reunited in 2366, when the USS Enterprise-D rescued the colonists from a natural disaster on the planet. Months prior, a new source of radiation on the planet cured the colonists of their physical deformities, but also altered them in a way requiring them to take the life-force of other beings in order to survive. Santorini, after renewing her relationship with La Forge, revealed all this to her friend, asking his help in finding an individual for her to feed on. La Forge refused, and Santorini responded by knocking him unconscious.
She was later fatally attacked by her fellow colonists, who feared her relationship with La Forge weakened her resolve and endangered their survival. She told La Forge she would always love him just before dying in sickbay. (TNG comics: "Serafin's Survivors", "Shadows in the Garden")
Community content is available under
CC-BY-SA
unless otherwise noted.