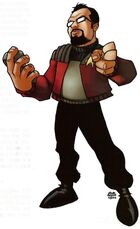 Dan Taylor is a comic book writer and editor. He served as the editor of IDW Publishing's Star Trek comics for the first few months of IDW's holding of the Star Trek comics license until he left IDW to begin a career as a freelance comic writer. His successor as Star Trek editor was Andrew Steven Harris.
Taylor was to write the Alien Spotlight issue on Orion Slave Women. However he pulled out when he left IDW to begin his new career. Andrew Steven Harris, later stated the door is open at IDW for Taylor to write Star Trek comics, and had Taylor pencilled in to write a future Alien Spotlight issue. [1]
While he was editor, in an interview about the Star Trek: Alien Spotlight miniseries, he echoed David Tischman's thoughts about IDW writing a Star Trek: Deep Space Nine comic series and added he would like to do a story set after "What You Leave Behind". [2]
Credits
Editorial
Writing
Appendices
External links