David Gerrold is an award-winning writer whose first professional sale was the classic Star Trek episode "The Trouble with Tribbles". In addition to his Trek screenwriting and prose fiction work, he also wrote two non-fiction books: The World of Star Trek, and The Making of The Trouble With Tribbles.
Gerrold performed the voice of M3 Green in TAS episode: "The Jihad" and was the model for Ensign Hacker in TAS episode & Log Four novelization: More Tribbles, More Troubles. He played two different Enterprise crewmembers in Star Trek: The Motion Picture and the Star Trek: Deep Space Nine episode "Trials and Tribble-ations". Gerrold also wrote the foreword of the novelization of that episode.
He wrote an introduction for Stephen Goldin in TOS novel: Trek to Madworld and another for Kathleen Sky in TOS novel: Vulcan!. He later wrote the introduction of the Constellations anthology.
His book "The Martian Child" was largely auto-biographical and adapted for the screen in 2007.
Appearances
[
]
Star Trek bibliography

[

]
Fiction
[
]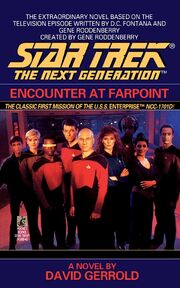 Non-fiction
[
]
Appendices
[
]
External link
[
]
This article is a stub relating to an author, illustrator or other publishing production information. You can help our database by expanding on it.