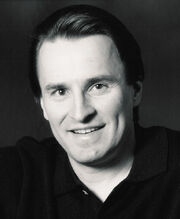 David R. George III has written for Star Trek on television, in books, and in magazines. He began his Trek career when he co-wrote the story for a first-season Voyager episode. He subsequently penned several Original Series, Next Generation, and Deep Space Nine novels and novellas. His Original Series trilogy, Crucible, was published to help celebrate the fortieth anniversary of the show's television debut. A planned hardcover collecting all three Crucible novels, and including a new preface and five new short stories by George, was scheduled for publication in May 2009; though the volume was later canceled, George had completed writing the new material.
George also wrote "Deep Into That Darkness Peering," the introduction to the Twist of Faith omnibus. His Mission Gamma novel, Twilight, was reprinted in the These Haunted Seas omnibus.
George's Voyager episode received a nomination for a Sci Fi Universe award in the category "Best Writing in a Genre Television Show or Telefilm." His work has appeared on both the New York Times and USA Today bestseller lists.
He has also contributed numerous articles to Star Trek Magazine.
Star Trek bibliographyEdit
Star Trek Magazine articlesEdit
Title
Subject
Issue Number
Issue Date
Magazine
Cover
Description
"Of Ice and Moonlight"
James T. Kirk
UK #136
US #9
Jan/Feb 2008
Dispelling myths in an exploration on the romances of James T. Kirk
"All the Galaxy's a Stage"
Deep Space Nine Relaunch
UK #137
US #10
Mar/Apr 2008
Exploring the DS9 relaunch
"Cowboys and Diplomats"
James T. Kirk &
Jean-Luc Picard
UK #138
US #11
May/Jun 2008
Dispelling myths in a comparison of the reputations and characters of James T. Kirk and Jean-Luc Picard
"The Voice of the Hidden Waterfall"
Spock
UK #140
US #13
Sep/Oct 2008
Dispelling myths about Spock's emotional life
"Condemned for a Villain: Winn Adami"
Winn Adami
UK #149
US #22
December 2009
Exploring the villains of Star Trek
"Trek Lit Villain: Colonel Mitra"
Colonel Mitra from
The 34th Rule
UK #149
US #22
December 2009
Exploring the villains of Star Trek literature
"Trek Lit Villain: Aventeer Vokar"
Aventeer Vokar from
Serpents Among the Ruins
UK #149
US #22
December 2009
Exploring the villains of Star Trek literature
"Life From Lifelessness"
Star Trek II: The Wrath of Khan
UK #153
US #26
Jun 2010
Reviewing the second Star Trek feature film
"Who Is...Jim Kirk?"
James T. Kirk
UK #154
US #27
Jul/Aug 2010
Exploring the character of James T. Kirk through the various incarnations of Star Trek
"Who Is...Sulu?"
Hikaru Sulu
UK #157
US #30
Dec 2010
Exploring the character of Hikaru Sulu through the various incarnations of Star Trek
"Who Is...Dr. McCoy?"
Leonard McCoy
UK #159
US #32
Mar 2011
Exploring the character of Dr. McCoy through the various incarnations of Star Trek
"Who Is...Chekov?"
Pavel Chekov
UK #160
US #33
Apr/May 2011
Exploring the character of Pavel Chekov through the various incarnations of Star Trek
"Resurrecting Okona"
Thadiun Okona
UK #160
US #33
Apr/May 2011
Discussing the return of Thadiun Okona in The Embrace of Cold Architects
"Who Is...Scotty?"
Montgomery Scott
UK #161
US #34
June 2011
Exploring the character of Montgomery Scott through the various incarnations of Star Trek
"Who Is...Christopher Pike?"
Christopher Pike
UK #162
US #35
Jul/Aug 2011
Exploring the character of Christopher Pike through the various incarnations of Star Trek
"The Ultimate Guide: Deep Space Nine, Season 7"
Deep Space Nine, Season 7
UK #164
US #37
Oct/Nov 2011
Exploring the series' seventh season, with episode rankings, best moment, worst episode, best guest star, and most valuable player
"Do You Believe in Miracles?"
Montgomery Scott
UK #165
US #38
Jan/Feb 2012
Dispelling myths about the Enterprise's chief engineer being a genuine "miracle worker"
"Star Trek 45s: 'Fight or Flight'
"Fight or Flight"
UK #166
US #39
Spring 2012
Examining a specific episode of Enterprise
References
Edit
↑ Original Sin Google search photocapture, http://s54.photobucket.com/user/defcons_treklit/media/original%20sin_zpslzvb6k7x.png.html
External links
Edit