For other uses, see Dax.

Jadzia is put on trial for a murder in which Curzon Dax was implicated as the perpetrator.
Summary
Dax has just finished dinner with Bashir when several Klaestron individuals incapacitate her and take her aboard their vessel. The Deep Space 9 crew stop the kidnap attempt.
References
Characters
Altman • Julian Bashir • Graham Davis • Jadzia Dax • Els Renora • Jones • Kallis Ven • Kira Nerys • Morn • Odo • Selin Peers • Quark • Benjamin Sisko • Orren Ran •

Enina Tandro

•

Ilon Tandro

• Yevir Linjarin
Referenced only

Dax • Curzon Dax • Keiko O'Brien • Miles O'Brien •

Ardelon Tandro
Starships
Locations
Races and cultures
Referenced only

Argosian • Cardassian • Klingon • Romulan
States and Organizations
Referenced only
Other references
2330s • airlock • arbiter • astrophysics • blood type • brain •

brainwave

•

cadderon force field

• combadge • death penalty •

docking port

• docking pylon •

electroplasma

• exoarchaeology • exobiology •

extradition

• force field • graviton generator • holosuite • raktajino • runabout • subspace • tractor beam • turbolift • warp drive • zoology
Appendices
Related stories
Cast
Images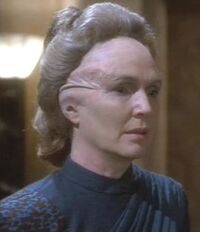 Connections
External links