This article or section needs attention
This page or section has been identified as needing attention. Please visit the article's talk page to see what needs fixing and feel free to edit this page to assist with this task..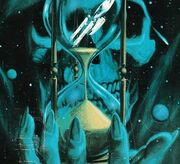 Death is a condition in which a lifeform permanently ceases to function.
Death, or the embodiment thereof, was a common theme in Klingon culture. So much so, that "he" could be considered a character. Martok, son of Urthog references death as a person or other entity. (DS9 - The Left Hand of Destiny novel: )

This article is a stub relating to a culture, language or tradition. You can help our database by expanding on it.
Community content is available under
CC-BY-SA
unless otherwise noted.