Death of a Neutron Star is a Star Trek: Voyager novel by Eric Kotani. It was published in 1999, the 17th book in the Pocket Books series of numbered VOY novels.
Description
An alien scientist asks to join Captain Kathryn Janeway and her crew in the investigation of an unprecedented scientific find. Soon USS Voyager is embroiled in a battle of wills among several alien races—each intent on manipulating the discovery toward its own end and decimating whole worlds in the process.
Janeway must stop a quest for knowledge from turning into a plot for destruction!
References
Characters
Chakotay • The Doctor •

Fedr

• Kathryn Janeway •

Janss

• Harry Kim •

Maalot

• Neelix • Tom Paris •

Qaad

•

Qados

• Qavim •

Qentor

• Qubo • Seven of Nine • B'Elanna Torres • Tuvok •

Tyla
Starships and vehicles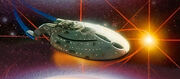 Falcon • frigate • Gravity • Invincible • USS Voyager • warship • yacht (Qavok prince's yacht)
Locations
Referenced only

Congress Hall

• Rome
Races and cultures
States and organizations
Lekk Deep Space Force

•

Qavok Empire

•

Qavok Space Forces

•

Qborne

• Starfleet • United Federation of Planets
Referenced only
Science and classification
atom • binary star • centimeter •

electron

• G-type star • neutron • neutron star • plasma • proton • pulsar • replicator • sensor • shield • supernova • tractor beam • warp core • white dwarf star
Ranks and titles
admiral • captain • doctor •

Emperor of the Qavok Empire

• ensign • executive officer •

First Citizen

• lieutenant • professor • scientist
Other references
asteroid • coffee • gold • planet • Prime Directive
Appendices
Background
The novel makes frequent reference to "the new shuttle", that was a particular project for Tom Paris. This is most likely intended to be a reference to the Delta Flyer, introduced to Voyager a few months before this book was published, with the novel written before specific details about the new ship were known.
Two separate English cover editions exist of this novel. One uses a cover image with an illustration of Tuvok and Kathryn Janeway, which seems to just be a solicitation cover, with no known examples having been found in circulation. The standard edition has the characters removed and just shows USS Voyager and a planet. Foreign translations also used the version without the characters.
Though only Eric Kotani is credited on the cover, the title page credits "Eric Kotani with Dean Wesley Smith."
Images
Connections
Timeline
External links