For other uses, see Decatur.
The Decatur-class was a series of Federation cruiser starships in Starfleet service around the time of the late 23rd century.
History and specifications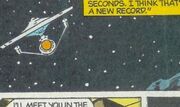 The basic design and specifications of the Decatur vessels is quite similar to that of the Enterprise-subclass refit Constitution-class heavy cruisers, with a different warp nacelle configuration and modified warp drive engineering accommodations.
Starfleet also fielded the Dreadnought-class starship, which was based on the Decatur hull. (ST - Who's Who in Star Trek comic: "Issue 2")
A training vessel (see unnamed Decatur-class starship) for Starfleet Academy in the 2350s was a Decatur-class ship, for cadet test scenarios proctored by Commander Silas. In one scenario, the ship of this type was commanded by Cadet William Riker. (TNG - Annual comic: "Thin Ice")
Known vessels
Appendices
Connections
Background
This ship appeared only as a drawing in two comic books, although the design was lifted from the unlicensed Ships of the Star Fleet and other publications. The fan fiction works regarding this vessel provide much more detailed specifications than the approximations noted here, which are based on the vessels' use of Constitution-class components, with known measurements in licensed publications.
It is possible there is a prototype for this class named USS Decatur, but no such vessel was directly referenced in the limited appearances of this class in licensed works. It is likely the class was named after American naval officer Stephen Decatur and numerous places and other vessels named for him and others sharing his name.
References