Defense Outpost 1121 was a Federation outpost, an R1 Invictus-class space station and associated planetside ground-operations facility, serving as a defense outpost and a repair station.
History and specifics
[
]
In Starfleet service in the later 23rd century, around the 2280s decade, this defense station was located along the Organian Neutral Zone in the Korial star system, in relatively close proximity to the Tasor Major system, a contested system located within the Neutral Zone. The station served as the operational headquarters for Starfleet's Task Force 13. The outpost was described as having "meager" recreational facilities. Many Starfleet officers assigned to the station, or to Task Force 13, had their families living with on the orbital station, or its planetside ground-operations facility. Parts of the outpost's communications systems could be controlled from the ground-operations facility. (FASA RPG modules: The Strider Incident, Regula-1 Orbital Station Deckplans)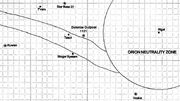 On reference stardate 2/1808.28, the USS Strider returned after 20 days away from the station, as part of a Task Force 13 routine patrol. However, the Strider showed up badly damaged, with its commander, Captain Kristine Reardon reporting battle with Klingon forces in the Stogar system after receiving a Code Red 1-A transmission, which signified all-out war. Federation sources showed no such transmission was sent, and Captain Reardon had no evidence to support this claim, and was thus arrested for treason, awaiting a court-martial.
On stardate 2/1809.01, a crippled USS Lexington arrived for repair. Captain Grant Franklin of the Lexinton met with Captain Carl Curtis, to be briefed on the situation he had become involved with, by his ship's mere presence. Captain Franklin then became directly involved with Captain Reardon's court-martial, and asked his crew to uncover additional evidence, leading to a thorough investigation. Some time later, a Klingon Diplomatic Corps shuttle arrived at the station, carrying Admiral Kai zantai-Mik, who has been recently appointed the Klingons official Ambassador to the Tasor, as well as his entourage. Admiral Kai and Commodore Bram Harmonson discussed the act of war on the Federation's part, and Kai remained confident that the Organians would return the Tasor Major system to the Klingon Empire because of this incident. The Klingons were allowed to leave the station without incident. However, their ship continued to be docked at the station. Not long afterwards, Lieutenant Darvin Harris attempted to kill Captain Reardon with a phaser as she was being transferred out of the brig. Later that night, Lieutenant Art Davials uncovered additional evidence, and contacted the crew of the Lexington to meet him in his quarters after-hours. However, upon their arrival, Davials was found dead on the floor, with a poorly forged suicide note. After further investigation by the crew of the Lexington, Captain Franklin agreed that the best course of action is to take the Strider, the station's only currently operational starship, to go retrieve a buoy ejected by the Strider that would contain a copy of the A-1 transmission. Its logs, and the associated command codes, would determine the course of the trial. The next day, the crew of the Lexington was able to secure both the Strider and a drugged Captain Reardon, and managed to depart the station with minimal difficulties. As they departed, Captain Curtis and Commodore Harmonson became aware, threatening the ship, though it was able to safely get away, and retrieve the bouy. After some time, the Strider returned, bearing incriminating evidence, to Commodore Harmonson's displeasure, as he understood what they must have found. A Klingon ship, the IKV Bloodsteel, decloaked next to the Strider, allying itself with the Strider. The two ships accused Commodore Harmonson and Admiral Kai Zantai-Mik of conspiracy to start a war. With evidence firmly established proving their involvement, both the Commodore and the Admiral fled aboard a warpshuttle before they could be apprehended. (FASA RPG module: The Strider Incident)
Personnel
[
]
Stationed Craft
[
]
Assigned vessels
[
]
Appendices
[
]
Connections
[
]