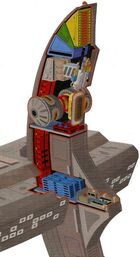 A defense sail, weapon sail or sail tower was a structure found on Nor-class space stations such as Deep Space 9. The sails were placed at 120 degree intervals around the habitat ring and housed most of the tactical systems of the station, including phasers, torpedo launchers and tractor beam emitters. (DS9 reference: Technical Manual)
The Cardassian crew avoided storing torpedoes in a weapons sail, in case the Bajoran Resistance attempted to bomb the sail with the intent of using the detonation of the torpedoes to generate a larger explosion. (DS9 - Invasion! novel: Time's Enemy)
When Starfleet took over operation of DS9 in 2369 they overhauled the stations weapons systems. The Cardassian tetrahedral phaser emitters, which the Cardassians had messily removed before leaving were replaced with standard type-IX phaser turrets and type-XI phaser arrays. These emplacements provided near a 360 degree sphere for defense, only interrupted by targets obscured at close range by the docking ring and pylons.
Each sail tower included two launcher tubes for photon torpedoes.
In 2372, the original Cardassian weapons monitoring rooms on the side of the pylons were converted into large rotary phaser cannons and microtorpedo launchers. The units were composed from emitter segments taken from Ambassador-class vessels. (DS9 reference: Technical Manual)
In 2370 when a group of juvenile Horta were causing havoc on the station, teams were station to the base of the sail towers to try and prevent the Horta breaking in and eating them. Miles O'Brien choose to defend Tower 2 and was joined by Gaysd Tel and Battes Ang from security. The trio attempted to hold off the Horta with sustained high power phaser fire but the Hortas proved quite resistant and broke into, and wrecked the towers. (DS9 novel: Devil in the Sky)
In April 2376, the towers were damaged in a Jem'Hadar attack on the station. (DS9 - Avatar novel: Book One)
Community content is available under
CC-BY-SA
unless otherwise noted.