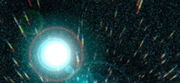 The Delta Eridani system was a star system in or near Federation space.
History and specifics
Sahu was in the Delta Eridani system, and in 2377, the USS Enterprise-E, under temporary command of Commander William Riker, undertook a relief mission to Sahu. (CoE eBook: Remembrance of Things Past, Book I)
Memory Alpha suggests the Delta Rana system, visited in TNG episode: "The Survivors", may have been intended as Delta Eridani, a real-world star.
Appendices
Connections
Stars, systems and objects of the Eridanus constellation
1 Eridani (Tau-1 Eridani)

• 3 Eridani (Azha, Eta Eridani) • 13 Eridani (Zibal, Zeta Eridani) • 14 Eridani • 18 Eridani (Delta Orcus, Toredar, Epsilon Eridani) • 23 Eridani (Rana, Delta Eridani) • 34 Eridani (Gamma Eridani, Zaurak) • 38 Eridani (Beid, Omicron-1 Eridani) • 40 Eridani (Keid, Omicron-2 Eridani, Vulcanis) • 59 Eridani • 67 Eridani (Cursa, Beta Eridani) • 82 Eridani • 88 Eridani • 198 Eridani • Alpha Eridani (Achernar) • Beta Eridani (Cursa, 67 Eridani) •

Chi Eridani (Caleb, Kaleb)

• Delta Eridani (Rana, 23 Eridani) • Epsilon Eridani (Delta Orcus, Toredar, 18 Eridani) • Eta Eridani (Azha, 3 Eridani) • Gamma Eridani (34 Eridani, Zaurak) • Iota Eridani • Omicron-1 Eridani (Beid, 38 Eridani) • Omicron-2 Eridani (Keid, 40 Eridani, Vulcanis) • p Eridani •

Tau-1 Eridani (1 Eridani)

•

Tau Eridani Cloud

• Theta Eridani (Acamar) • Zaurak (34 Eridani, Gamma Eridani) • Zeta Eridani (Zibal, 13 Eridani)
References
External link