For other uses, see Benecia.

Delta Majoris (or the Benecia system) was a star system in Federation space, a binary star located in the galaxy's Alpha Quadrant at coordinates 1.01S 2.01E. (FASA RPG module: The Federation)
History and specifics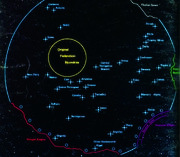 Benecia system, located in the boundaries of space claimed by the Federation government, consisted of two type K stars locked in orbital system. This system was the home of a number of planets, including the third planet Benecia III, a Federation colony world. This binary system was in the general vicinity of Zibal, Beta Aurigae, Lambda Ursae Majoris and Starbase 11. (ST reference: Star Charts)
The stellar notation using the Greek language letter "delta" indicates that there might be a star group or constellation of some sort named "Majoris", of which Delta Majoris would logically be indicated to be the fourth most prominent star or system. This could be shorthand for the Canis Major constellation or the Ursa Major constellation.
System makeup
Delta Majoris I
Delta Majoris II
Delta Majoris III (Benecia)
Appendices
Connections
Alpha and Beta Quadrant stars and star systema (D)
Daffodon • Dagem • Dak-Alpha • Dakiak • Daled • Danae Victoria • Danara 5986 • Danian •

Dantar

• Dante • Danton • Danula • Daran • Dark Horse • Daros • Dar'shinta • Dauouuy • Davidul • Daxura • DD Tauri • Dedderac • Dekian • Delanath • Delanos • Delior • Delius • Dellaton • Delleren • Delmas • Delos • Delta (Delta Principius/Delta Triciatu) • Delta Arietis • Delta Arlana • Delta Cassiopeiae • Delta Cyanna • Delta Darius • Delta Fuego • Delta Gamma • Delta Gamma • Delta Indus • Delta Khinah • Delta Majoris • Delta Neezott • Delta Omega • Delta Principius/Delta Triciatu • Delta Sigma • Delta Theta • Delta Vara • Delta Vega • Delta Zeta 785 • Demeter • Denab • Deneb Kaitos • Denkir • Denocet • Denro • Derenja • Detria • Devnar • Devona • Dexel • Dextera 273 • Deznah • Dhum'Qha • Dhu'Qua • Diad • Didacti • Didi • Digifal • Dilyut • Dinar • Dis • Disuz • Dixiak • Dizok • Dolcan • Donovan's Star • Don'zali • Doona • Dorala • Doska • Douruine • Doxiez • Dozox • Drago • Draken • Dramia • Draomn • Draxis II • Drexler • Drid • Drixane • Dundee • Duosetel • Duraiana • Durala • Duran • Duval • Duviniax
Alpha Quadrant stars and systems (D)
Dannus • Davon • Delavi • Delkar • Delta Aquilae • Delta Aurigae • Delta Herculis • Delta Pegasi (Delta Pegasi A • Delta Pegasi B) • Delta Ursae Majoris • Denab • Deneb systems: (Deneb • Deneb Kaitos • Deneb el Okab) • Denobula Triaxa • Devidian • Dnoces • Doltec • Dopteria • Dorvan • Draco Minora • Draco Omega 371 • Draco Ursula • Draygo • Draylon • Dreon • Dubhe
Beta Quadrant stars and systems (D)
D'deridex • Da'Kel • Danteri • Dasha Verta • Davlos • Dayos • Delphic • Delta Canaris • Delta Corvi • Delta Dorado • Delta Eridani • Delta Geminorum • Delta Hydri • Delta Leonis • Delta Leporis • Delta Orcus • Delta Pavonis • Delta Phoenicis • Delta Rana • Delta Velorum • Denebola • Deneva • Denius • Derex • Desotriana • Dessica • Devolin • Devoras • Devorren • Devron • Dewa • Dimorus • Dinasia • D'Korin • Donatu • Drovna • Dumok'azen
References