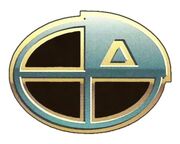 The Delta Quadrant is one of the four quadrants of the Milky Way Galaxy, and is home to multiple alien races, most notably the Borg Collective.
In 2371, the Federation starship Voyager was catapulted to the Delta Quadrant by the Caretaker, a representative of the Nacene. After becoming stranded, Voyager spent seven years travelling through the Delta Quadrant, before returning to the Alpha Quadrant in 2377.
List of Delta Quadrant Races
A
B
K
O
V
Community content is available under
CC-BY-SA
unless otherwise noted.