Deneb Kaitos (also known as Beta 16 Ceti, Diphda or simply as Deneb) is a star with an associated star system located in the galaxy's Alpha Quadrant, in the space of the Federation. The system is often referred to as the "Deneb system" for the sake of convenience, but it is not to be confused with the "true" Deneb system orbiting Alpha Cygni. It is notable for containing four inhabited planets. (ST reference: Star Charts)
History and specifics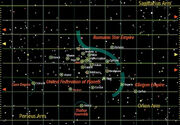 This type G yellow star was visible from Earth, almost 16 light-years distant, as part of the constellation of Cetus. Deneb Kaitos, situated in the general vicinity of Groombridge 34, Sigma Draconis and Cor Caroli, was named similarly to the "true" Deneb at Alpha Cygni. (ST reference: Star Charts)
The system is also home to four sentient species, each of them adapted to the big and dense worlds of the system: the Klaha, the Eyren, the !'hew, and the Deirr. The Denebian species all preferred to move quickly, considering their usual six-century lifespans too short to waste. James T. Kirk once characterized them as "the Galaxy's biggest, merriest overachievers, and a definite asset to the Federation." Because of their similarities, all of the Denebian races often served on the same ships, such as the USS Inaieu. (TOS - Rihannsu novel: My Enemy, My Ally)
The population of the system as a whole is 19.0 billion, with 11.2 billion of those inhabitants residing on Deneb V. Its star Beta 16 Ceti is a type G yellow giant. (ST reference: Star Trek: Star Charts)
The existence of the Deneb Kaitos system is a retcon by Star Charts to explain why some references place Deneb near or even within Federation space during the 23rd century and others place it at the fringes of exploration in the 24th century. The former are actually referring to Deneb Kaitos; the latter to the true Deneb, Alpha Cygni.
Star Charts claims that only three of the four planets are Federation members. It is not stated which one is not, but it is definitely not V, and probably not II or IV, either. Exactly which planets the !'hew and Eyren come from is also unclear.
No history or specifics are established for the Diphda system's location in Starfleet Command III gameplay, as its name was arbitrarily selected for a system on the game map by the game software, with random attributes.
System makeup
Appendices
Connections
External link