For other uses, see Denobula.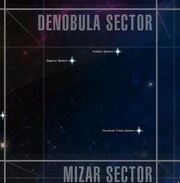 The Denobulan sector (or Denobula sector) was a sector of Federation space in the galaxy's Alpha Quadrant, the location of the planet Denobula.
Although this system is entrenched in Federation space, the ST video game: Starfleet Command III assigns a world in the Seginus system as being a friendly port-of-call to the Romulan Star Empire in the year 2379.
Late in 2348 or in early 2349, the starship USS Schiaparelli was en route from Earth to the Denobulan sector, and transported Starfleet Lieutenant Jack Crusher there on his way back to the USS Stargazer. (TNG novel: Losing the Peace)
In 2410 astrography, the Denobula sector lay between Earth Spacedock in the Sol system and Deep Space 9 in the Bajor system. Neighboring sectors on the same plane included the coreward Argus sector, the Tellar sector bordering the Beta Quadrant, the rimward Mizar sector, and the anti-spinward Maxia sector. (STO - The Iconian War mission: "Venture into Deep Space")
Community content is available under
CC-BY-SA
unless otherwise noted.