For other uses, see Dervish.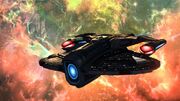 The Dervish-class was a type of Federation starship in Starfleet service, a 25th century escort. (STO video game: Star Trek Online)
History and specifications
[
edit
|
edit source
]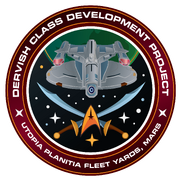 In the early 25th century, the Dervish-class development patch was on display in shipyards, like the Utopia Planitia Fleet Yards. (STO mission: "First Contact Day")
The patrol escort's space frame was divided into five sections: hull, saucer, center pylon, side pylons and warp nacelles. These components were interchangeable between the patrol escort classes, including Gryphon (escort), Hermes (escort), and Tempest-class. The center pylon was removable entirely. (STO - Klingon War mission: "Welcome to Earth Spacedock")
In the 25th century, the hull design of the Dervish-class patrol escort allowed its commanding officer to choose from different livery materials. These could be modified by Starfleet Shipyards Operations. The material options included numbered Types, Veteran and Fleet. Type 3 was the default for the Dervish. (STO - House Divided mission: "Welcome to Earth Spacedock") Dervish hull materials:
Furthermore, the installation of deflector shields from specific factions modified the hull appearance, including shields from the Reman Resistance, the Breen Confederacy and the Dominion. (STO missions: "Coliseum", "Cold Storage", "Boldly They Rode")
Community content is available under
CC-BY-SA
unless otherwise noted.