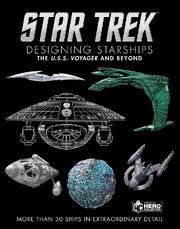 Star Trek: Designing Starships is a multi-volume reference work series exploring the real-world creation of Star Trek starships. Eaglemoss Collections launched the series through its Hero Collector imprint in 2016.
Description
Designing Starships is a series of lavishly illustrated art books that detail the design process behind the most memorable ships in Star Trek's history. Each book showcases original production artwork, and features in-depth interviews with the concept artists who created the ships, exploring exactly how each ship was created and offering a fascinating glimpse of what could have been.
The books feature the work of celebrated Star Trek designers like Matt Jefferies, Andrew Probert,

Rick Sternbach

, Doug Drexler and John Eaves, plus many more.
Volumes
Appendices
Connections
External links