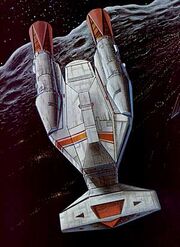 A destroyer is a type of military starship intended to escort vessels in a fleet and defend them from attack, giving this type of vessel similarities with escort ships. Destroyers can be further classified as heavy destroyers.
Starfleet starship classes that fill this role include the Marshall-class, Saladin-class, Akula-class, and Baker-class.
Destroyers were useful vessel types in areas where treaty agreements forbade larger, more heavilty armed vessels from encroaching on neighboring powers. (FASA RPG module: Demand of Honor)
Community content is available under
CC-BY-SA
unless otherwise noted.