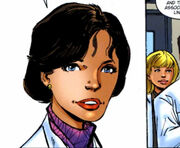 Diana Winters was a female Human born in the United States of America on March 26, 1930. In 1933, at age three, she was killed along with her family in an automobile accident.
Some time prior to 1966, the KGB used Winters' birth record as the basis for a fabricated identity record for one of their undercover agents. According to the false Diane Winters' biographical records, she attended William and Mary College, and graduated summa cum laude. She received masters degrees in chemistry, quantum engineering, and advanced electromechanical theory, and doctorates in particle physics and nuclear theory.
In 1966, "Winters" joined Project Hercules, an effort to develop enhanced fusion technology, and in 1967 was promoted to project head. Acting on behalf of the Soviet Union, "Winters" attempted to undermine the project.
In 1968, shortly before Hercules' final test, Gary Seven and Roberta Lincoln infiltrated the project to prevent its catastrophic failure. During this time, Seven developed an attraction to "Winters," and was caught unawares when she revealed her true background. "Winters" then threatened to kill Seven, but was instead killed by one of Project Hercules' security guards, Smitty. (TOS - Assignment: Earth comic: "Brighter Than a Thousand Suns")
Appendices
Edit
Appearances and references
Edit
References
Edit
Community content is available under
CC-BY-SA
unless otherwise noted.